Performance Tracking
Having a successful online presence requires clarity of your goals and consistent measurement.
Learn More
Contact Us
How can you know what's working if you're not tracking it?
U7's performance plans are perfect for busy business owners, and companies looking to improve their online presence.
Who is the performance plan for? 
Whether your want to measure your part-time gig, full-time business, or a company you work for, U7's performance plan will help you:
Clarify your online goals 
Support your business objectives 
Get to know your website visitors 
Enhance your user experience 
Know your best content and focus on it 
Help your site's SEO 
Track top referrals and build strategies to strengthen them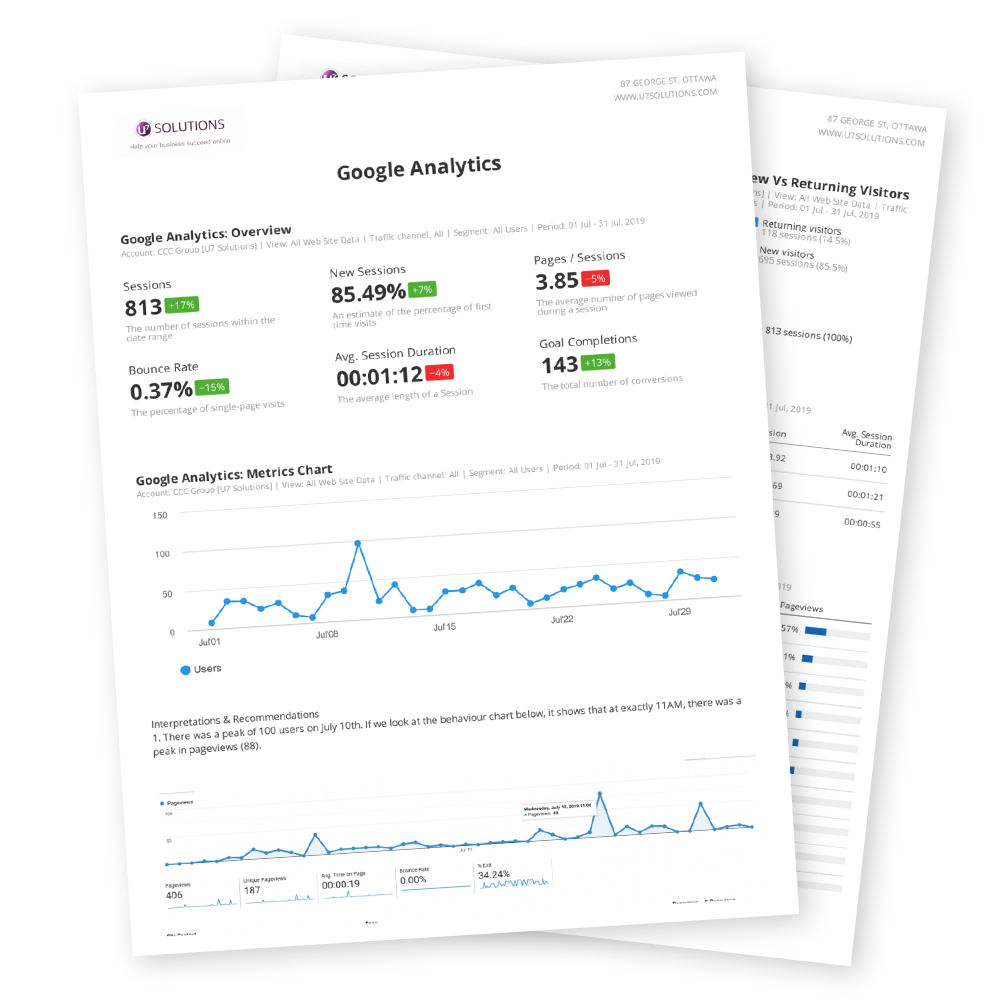 What's included in the Performance Plan?
Website Audience & Acquisition
Pay attention to your website's most popular pages and what users are doing on your website.
Web Goal Completions
Gain insight about where your users are clicking, whether they're watching your videos, completing forms, and more! 
Google My Business
Take note of your traffic when it comes to search vs maps views, call times and more.
Google Ads
Figure out which google ads are most effective in generating leads and converting your users based on your goals.
SEO
Stay on top of the keywords people are using to find your business and where you rank in search engines for keywords you care about.
Social Media
Find out which posts are receiving the most engagement and how your activity and audience and engagement is changing overtime.
Performance Plans
Whether you want a report to review with your team each month, or more personalized reviews and support – we've got you covered!
Each monthly report includes: 
Monthly report
Website analytics
Goal completions
Google My Business insights
Google Ads campaigns
Social media
SEO 
Annual check-in
Monthly report
Annual 60 min check-in
Quarterly Check-in
Most popular
Checking in on a quarterly basis is highly recommended as timely adjustments will save you time and generate better results for you in the long term.
Monthly report
Quarterly 60 min check-in
Monthly Check-in
Ideal for those seeking fast-paced aggressive growth.

Monthly report and 60 min check-in with digital strategist
Optionally add YouTube and Email newsletter analytics for $10/month each. 
Alright, how does it work?
Setup
We'll send you a form and discuss your goals over video call. Our team will request access to various accounts, streamline the information in our program, and create a customized report.
Training
We'll walk you through the report and explain each section in a video call to ensure you and your team understand every section and how to use the information to improve your online presence.
Monthly Report
You'll receive a monthly report on the first day of each month. If you have chosen a plan with quarterly or monthly check-ins, we'll hop on a video call to go over the report and questions together.
Frequently Asked Questions
empty
Can you also provide YouTube analytics?
YouTube analytics are available within YouTube Studio's Analytics dashboard. However, if you wish for it to be included in the report we can do that for an extra $10/month. There is an extra fee because this will require manual screenshots and additions to the report.
Can you also provide newsletter analytics?
Newsletter analytics are available within your newsletter system. However, if you wish for it to be included in the report we can do that for an extra $10/month. There is an extra fee because this will require manual screenshots and additions to the report.
empty
Can I make changes to the report along the way?
Yes absolutely. If you wish to change your website goals, remove a section, or make additional changes, we can update the report along the way. Since this does take manual work, we will charge for the time it takes depending on the request at our hourly rate.
Can you help improve our performance?
Certainly. We offer a range of marketing services that include email marketing, social media, content marketing, SEO, and Google ads. If you wish to work on improving your performance with us, do not hesitate the reach out!