Does this sound like you?
"My website is not showing up on Google for important words related to my business"
"I have a website but I barely ever get any leads from it! Why isn't it being found?"
"The traffic is devastating. I post articles and it's only crickets. All the time I spend on writing pages and working on my website is wearing me thin. There's little to no ROI!"
The art and science of ranking high on Google is what we call "SEO" – Search Engine Optimization.
Here's the issue: many businesses don't know what it takes for good SEO!
Are you aware of the number of best practices that you should follow to increase your chances of ranking at the top of search results?
Everything you need to know to rank at the top of search engines!
Our 40-point assessment is an audit designed to get you equipped with the knowledge to take decisive SEO action.
Best practices outline
Get the outline you've been looking for to understand the SEO recipe!
Report with details
How exactly can you improve? Get the breakdown for each point of the scorecard.
Scorecard
How is your website doing? This scorecard will rate your website over 40 best practices.
Video call debrief
What if you've got questions? We've got you covered in a 60mins phone call debrief.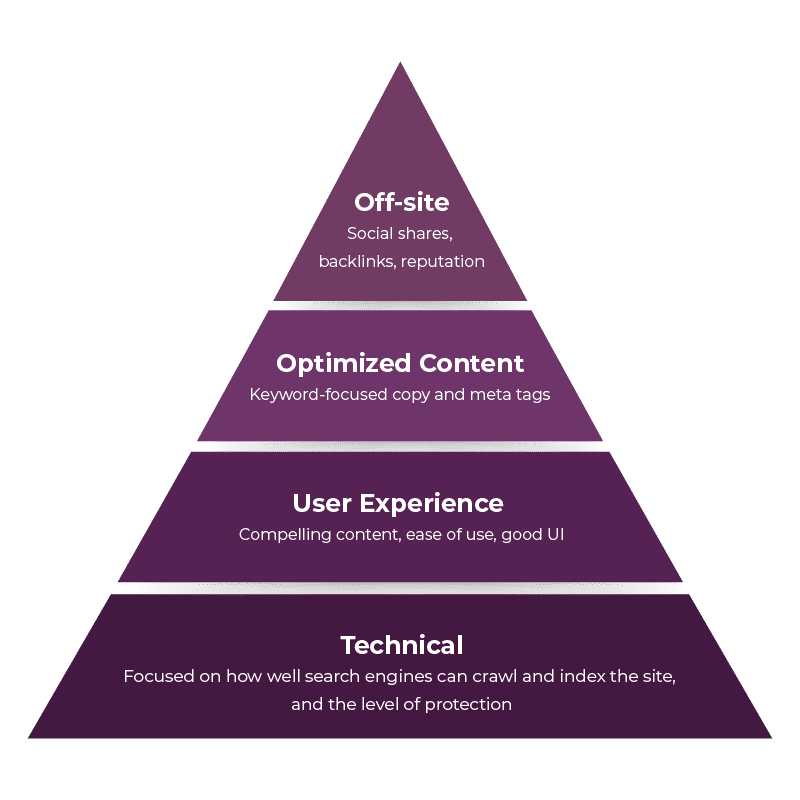 We'll break down your website's score for the hierarchy of SEO needs.
Get Started Now
Choose the assessment that is right for you.
10-Point Video Assessment
---
This option is best if you want to make a smaller investment and receive a 10 min video where we review your website's user experience.
40-Point Report and Video Chat
---
The full 40-point SEO outline, a custom scorecard evaluating your performance, a full report with recommendations, and a 60 mins phone call.
Try the assessment for 14 days with our
100% SATISFACTION GUARANTEE.
U7's SEO website assessment comes with a 100% Satisfaction Guarantee.
Our hope is that your business benefits from this assessment and the clarity that it provides. The assessment alone will not promise results, but rather, provide you a roadmap with the outlined best practices to follow. If you get on the debrief call with us and express that you're not satisfied, within 14 days of purchase, we'll promptly refund your assessment fee.
We want to review your website's SEO
Our 40-point assessment is an audit designed to get you equipped with the knowledge to take decisive SEO action.
Frequently Asked Questions
1
Will this assessment help me rank on the first page of Google?
It's important to understand that this assessment is an audit that will provide an outline and roadmap. It does not include any implementation. Once you receive the feedback, you will either need to implement the changes yourself or hire a company to assist you.
2
Can you help me with the implementation?
The assessment is only an outline of what you can improve. That being said, we offer implementation, monthly plans, and coaching services to complement the report as best as possible.