Would you rather hunt for customers OR have them come to you?
SEO allows you to tap into the value of search, so your customers find your business when they need your products & services!
What is Search Engine Optimization?
SEO is an acronym that stands for "search engine optimization." It's the practice of increasing both the quality and quantity of website traffic, as well as exposure to your brand, through non-paid (also known as "organic") search engine results.
The goal of website SEO is to apply best practices so that a website can rank higher within the search engine results. This is determined by what we call page rank or SERP (search engine rank position).
How do you get your pages to rank higher on Google?
SEO is multi-faceted and there are many ingredients to complete the recipe. We've narrowed these down into a hierarchy of four SEO needs.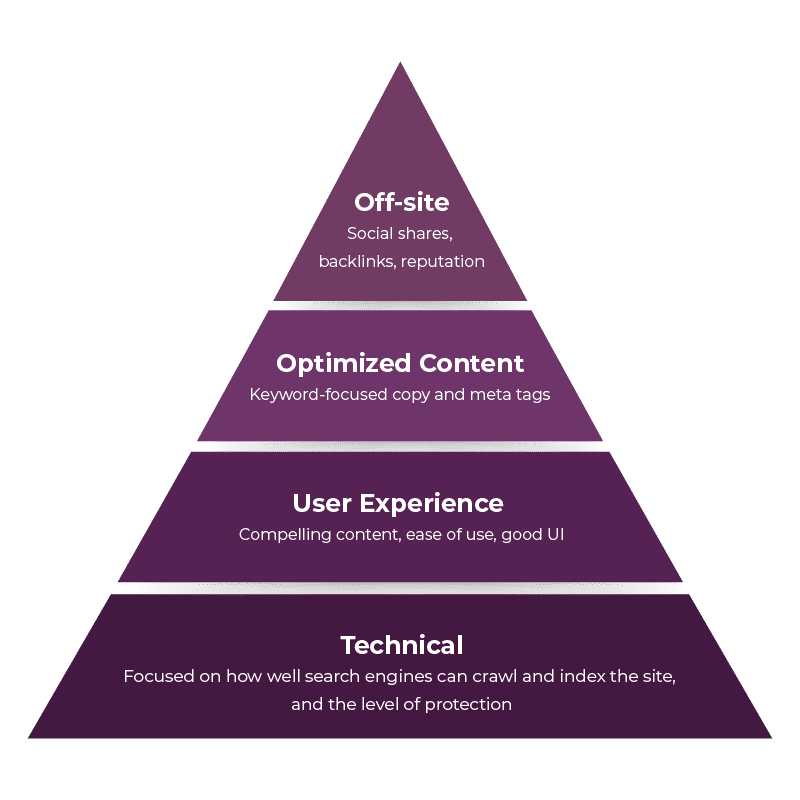 Technical
There are a number of technical criteria that search engines take into account when ranking websites such as mobile responsiveness, the presence of a site map, and much more!
User Experience
The golden rule with SEO is to make pages primarily for users, not search engines. Ensuring your website is modern and user-friendly is a huge part of SEO.
On-page SEO
Writing keyword-focused copy and meta information helps increase the relevancy of your pages for certain keywords you want to rank for.
Off-site SEO
Factors that lie outside of your website can also impact your ranking such as backlinks (links from other websites), or even mentions of your brand and social shares.
SEO Management
Our monthly plans require an initial research, strategy, and setup phase that is described below.
Discovery
Account setup
Technical audit
UX experience review
Keyword research
Competitive research
Copywriting gaps
Strategy
Strategy implementation
Reviews
Reporting


We offer a range of SEO services
U7 Solutions has an in-depth defined process, with checks and balances, and milestones, to ensure that the product they deliver is a great success. Nothing is left to chance, from start to finish. Add talented, inquisitive people, and the result is outstanding!
Frequently Asked Questions
1
Can you audit my website?
Yes! We offer an SEO assessment where we run your website and online presence through a 40-point system to identify areas of improvement.
2
Can we hire you for SEO coaching?
Sure thing. We offer SEO coaching sessions to help you and your team understand the best practices you can apply.
3
Do you provide SERP reports?
Yep we do! Tracking your ranking is a big part of smart SEO work. We offer performance plans that cover SERP and more.
4
Do you promise rank positions for your services?
No we do not. With SEO, you cannot "promise" a rank position. Not only do algorithms change, but competitors change as well. The nature of SEO is ongoing and the best you can do is continue to work at creating quality content.
5
Do you conduct keyword research?
You bet! Keyword research is our favourite part of SEO! We identify strong seed words to begin our research and use our paid tool to identify the best candidates for the optimization process and SERP.
6
Can you write blog posts and copy that is optimized?
Absolutely. First we will conduct keyword research and create a content strategy and plan. From there, we can hop on a monthly or weekly content schedule to ensure you have updated and search engine friendly content.
We want to review your website's SEO
Our 40-point assessment is an audit designed to get you equipped with the knowledge to take decisive SEO action.