Maybe you've read our article Why You Should Up Your Game on social, and are now convinced that social media is what's missing in your online marketing strategy.
Well good, we most likely agree.
What is Social Media Management?
There are several different aspects of social media management: strategy, content, calendar, scheduling, and performance. We work with clients from the ground up, helping them plan and develop engaging content, organizing it within a calendar, scheduling it within automation programs, and analyzing performance through social insights and analytics.
What's Included in Social Media Management?
Content Planning
We plan each month of content one month ahead of time. We work with you to gather and find content, review the content, make editing proposals, reformat visuals as needed based on the platform, and choose hashtags.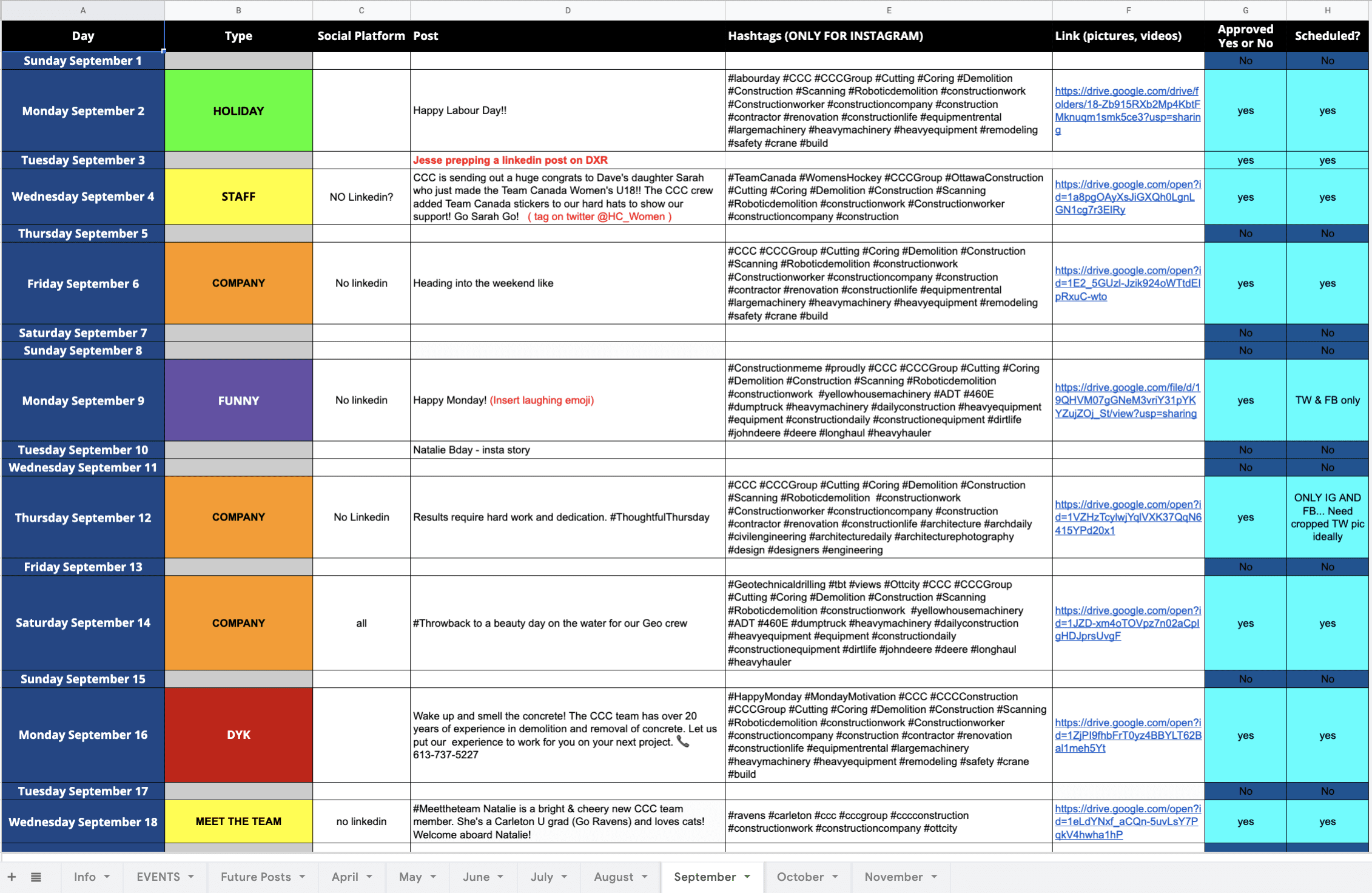 Scheduling & Engagement
We use a scheduling tool called Hoot-suite to schedule posts and engage on your platforms with like-minded accounts by liking, commenting, and responding.
Reporting
Each month we provide performance reports and interpretations that provide insight on how our efforts are doing based on our targets and competitors we've identified together.
Social Media Management
Our monthly plans require an initial research, strategy, and setup phase that is described below.
Discovery
Account setup
Research & content spreadsheet
Revisions and touch base
Develop first quarter's content
Reviews & Edits
Content tweaking & posting
Reviews
Reporting

Possible add-ons:
Account collaboration
Video production coordination
Manual posts: videos, stories, etc.
What our clients are saying...
I work for CCC Group, and we reached out to U7 for social media services, once they completed our website. Their team is friendly and easy to work with, and quick to respond. With the evolution of our company, we have really benefited from outsourcing our social media needs. Our content is true to the brand, and our visibility and consistency has been on point!
Working with a marketing professional is something I would not have considered in the past simply because I had a scarcity mindset - I couldn't afford such a luxury. Rather, I spent bundles of money on a property that ultimately failed; I concocted a rebranding exercise a few years ago that also failed;  and I made many decisions about my yoga business that were - to be kind - growing pains. With a spark of inspiration - and a leap of faith - I'm happy to say that's all shifted. I'm pleased with the results of the marketing investment I'm making in myself and my yoga business. 
Jayson Peltzer and his amazing social media team provided a fun and exciting solution to a stagnant turn in our business. I really thought that I could do the social media aspect of East Coast Limos by myself but unfortunately I was wrong. I knew that I needed help to grow my business and with an open mind, I contacted Jayson and explained my goals in fine detail. We had a few amazing brainstorming sessions and Jayson and his team laid out a perfect campaign strategy for East Coast Limos. 37 days after we implemented this campaign, our client 'Request for Quotes' rose 25%. The U7 team worked on the initial strategy then provided guidance to me and my staff during the whole social media campaign process. After a very successful campaign, they coached me and my team member on the intricacies of social media marketing. Now our team can do the social media by ourselves, with U7's support of course! We have worked with U7 for 3 years and through their guidance and support our start-up business has evolved into a very success growing business! U7 has always been there for East Coast Limos with their prompt and professional support. My team and I highly recommend them to guide you through slow growth periods.
Alright, how does it work?
Free Consultation
Let's chat on the phone for 15 minutes to get an understanding of what your goals and objectives are. If you believe we're the right fit for you, we will send you a formal quote for the work and move to the next phase.
Strategy & Setup
We start with researching your competition, your services, your products, your branding, etc. We then want to meet with you to discuss our recommendations prior to beginning any work. We need to make sure we're on the same page and that you will be fully satisfied with us posting on your behalf.
Monthly Plan
Once we've agreed on an implementation strategy, we will jump into the monthly plan of crafting content, posting and engaging, plus offering monthly reports and debriefs.
Our Social Media Beliefs
We can evaluate whether that is the best system for you to use based on your current and future goals. Various email systems and plans have different capabilities that may be too little or too much for what you truly need.
People are not following you to see a stock account. They need real photography and videography to feel a genuine connection with your business. This doesn't mean you can't create a graphic for an event every once in a while, or share information graphics, many successful accounts ONLY have graphics, but they are unique to them (as in, they're probably graphic designers showing their work).
3
Content planning does not equal content creation
Since we believe in authentic photography, we plan these sessions separate IF you need them. We work with many clients that have tons of available photography of their projects, business, team, and so forth. We also work with clients that don't have any, and in those cases, we plan a shoot to gather the creatives needed for a successful platform.