Ever wonder how your competitors' webpages are performing? 
It's one thing to concern yourself with keyword research, but at the end of the day, SEO is a competitive game. You have to concern yourself with what others are doing to outrank them. 
This is why, using a SEO tool like SEOquake is so helpful in analyzing the competitive landscape. It's a free browser plugin that allows you to scope out your competitors' SEO info at the click of a button. 
Let's go over SEOquake together, and see why these metrics are so useful for your SEO game. 
Getting started with SEOquake
Start by heading over to SEOquake, and download the browser extension. 
Once it's downloaded, go to any webpage you want to evaluate, and right click. 
Choose SEOquake within the dropdown and select any of the options (page info, diagnosis, etc).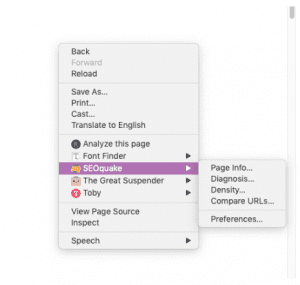 It will bring you to a SEOquake page with six different tabs to choose from. 

Now you may be wondering: what are all these different tabs, and how do I go about analyzing each of them? 
Page info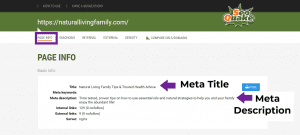 This section will give you basic information of a SPECIFIC webpage (rather than an entire website), including the meta title and description, link information, and a preview of the keyword density. 
I'll be covering the internal/external links, as well as the density further in the blog post. For now, let's just focus on the meta title and description and what they mean. 
You might not know it, but you've definitely seen a meta title and description before. As a matter of fact, every time you use a search engine, the results are full of them.
So let's say we type ''natural living'' in Google, a combination of a meta title and meta description will appear for each search result.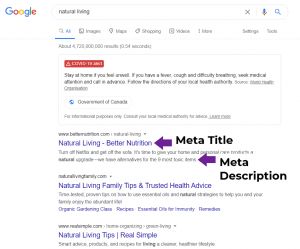 These can provide insight as to whether your competitors are using a certain keyword in their meta title and meta description. In this example, the first search results are using the keyphrase "natural living" at the beginning of the meta title, and this is likely a strategic placement.
So take a look at what your competitor's meta titles and descriptions are and which words they are using.   
Diagnosis
The diagnosis section showcases a brief SEO audit of the webpage, with a list of attributes that are either properly or improperly optimized, such as:
Optimal URL length

: 40 characters is optimal

Headings:

your web pages should have one H1 heading, and the remaining headings on the page should be either H2 H3 or H4 headings, all optimized with keywords.

Images:

all images should have alt text with a keyword included
There are many other attributes to consider, so we suggest launching the plugin and browsing this section to learn more. We also go over many of these in more detail in our On-Page SEO blog post.
Internal & external links
Websites are full of links, some of them are internal and others are external. 
Internal links are links within your own website, which help with user navigation, and also are beneficial for SEO purposes.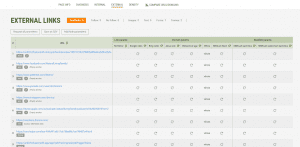 External links are links coming to your website from external sources. These help create authority, because they tell search engines that other websites recommend yours.
Having an overall understanding of your competitor's number of links can help you realize whether you might have shortcomings in comparison. Remember however, that quality links are just as important as the number of links. We talk more about this in our backlinking blog post.
Density 
The density section outlines the word-count for the ''keywords'' on the page. SEOquake is simply showing you how many times a certain 1-word, 2-word, 3-word, or 4-word phrase appears on the specific page you're analyzing. 
You want to look at both long-tail keywords and short-tail keywords in this section, but with a focus on long-tail keywords. 
So what exactly is the difference between long-tail and short-tail keywords in seo?
The 1 -word phrases are called short- tail keywords, whereas the 2-4 word phrases are called long-tail keywords (since they are longer).
It's important to primarily look at the long-tail keywords, rather than the short-tail keywords. Long-tail keywords will usually perform better than short-tail keywords, since long-tail keywords are more specific and easier to rank for.
It's important to note that this information is not site-wide, it is specific to the URL chosen.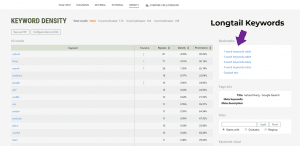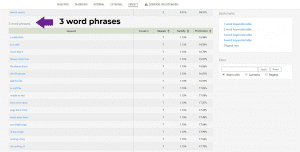 Long tail keywords are a great way of targeting search queries that are more specific, which is likely to generate warmer leads and increase conversions. 
That's the overview of how to spy on your competitors for free with SEOquake. You can check out their meta information, technical diagnosis, number of internal and external links, and the density and choice of their most frequent keywords.
So now that you've gained some insight on keyword research and competitive analysis, the next step is to optimize your webpages. 
---
Enjoy this article? Don't forget to share.