In this day and age, there can be many hurdles when it comes to capturing people's attention online. Between all the noise on social media, to saturated search engine results, marketers, and business owners alike are constantly looking for creative and innovative ways to engage users.
In come gamification marketing.
Gamification is the process of incorporating branded games and interactive elements into a marketing strategy in order to entice users to engage with a brand's digital presence and business. 
Let's take a look at five gamification marketing strategies that you can draw inspiration from for your next campaign: 
1. Create an interactive video ad 
Digital advertising has become one of the most popular and effective marketing methods out there. Video ads, in particular, are highly effective and capture people's attention. In fact, online videos will make up more than 82% of all consumer internet traffic — 15 times higher than it was in 2017 (Cisco). 
Now, imagine incorporating interactive elements into this mix, sounds like a winning recipe to me. 
Whether you want to integrate contact forms and quizzes directly within Facebook video Ads, or produce clickable video ads on Google, the power of gamification marketing can be utilized for video advertising across all platforms.
There are several tools on the market that allow you to easily add interactivity to your video ads, creating immersive and engaging content for users. Take the platform WIREWAX for example. This handy tool allows you to create high-converting, customized, and interactive video ads. Add various interactive elements to video ads, such as:
Buttons:

add buttons with custom actions within video ads.

CTA elements:

incorporate visual/auditory cues that encourage your viewers to take a desired action.

Quizzes and surveys:

ask users questions that pause the video and require a response, then prompt action or tailor the experience based on user responses.

Open images:

add product images, graphs, diagrams, and anything else that might convert users. 

Product details and links:

create direct access to product checkout, additional information, company landing pages, and much more.

Start email:

prompt users to contact you directly within your video ad.
…and more!
To see WIREWAX in action, check out this interactive video ad from Honda. 
2. Run a social media giveaway
Online contests and giveaways stimulate engagement from your existing audience, while drawing in news viewers and followers. Social media is  gamified in many ways, and encouraging users to play via your social platforms further enhances this gamification culture. 
Giveaways are an easy way to engage your audiences while promoting your brand. Here are some cool ways you can engage users in your next social media giveaway: 
Like, comment, and tag a friend to win
This giveaway method is by far the easiest type of social media giveaway, and doesn't require much from participants. It's easy for everyone to get involved, and is the simplest way to not only boost engagement on your social platforms, but also have new viewers visit your page, that you may not have reached without the giveaway. 
Answer question in comments and share post to story 
Although this one requires a bit more user participation than the previous method, engaging your audience by asking them questions can be a great opportunity to boost engagement and retrieve some feedback on your brand at the same time. For example, you can ask users to answer questions about one of your current products/services, a problem that your business can solve, or something they wish to see more of from your brand. Asking users to share your giveaway post on their stories is an effective tactic to reach a wider audience and further expand your brand awareness to new viewers. 
Hashtag contest
A hashtag contest can be a great way to develop branded hashtags that you can use for future social media campaigns. Let's say your online contest consists of users posting pictures of your products and including a branded hashtag within the caption. This branded hashtag can then be utilized in future campaigns, further increasing your brand awareness online. Although this giveaway may not receive as much engagement as the other methods mentioned above, it builds stronger and more sustainable brand awareness for the long haul. 
3. Help guide customers through your products/services with quizzes
IL Makiage, a very popular makeup brand, does a great job of gamifying their shopping experience through an interactive quiz. The quiz prompts users with specific questions about their skin type, and then recommends personalized shades and product types based on quiz results.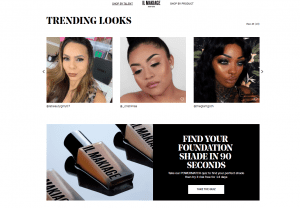 This highly customized shopping experience allows users to make informed shopping decisions, giving them extra confidence in the brand and their products.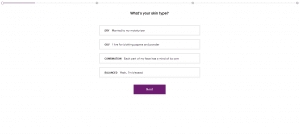 Whether your brand offers products or services, quizzes are a great way to engage users, encourage them to spend more time on your website, and provide customers with highly-customized experiences, making your brand more memorable and credible. 
4. Implement a loyalty rewards program
What better way to encourage users to spend money on your products/services than by rewarding them with discounts, free products, and promotions via a loyalty rewards program?
A couple brands are currently KILLING it when it comes to running a successful loyalty rewards program. Take Starbucks for example, they have gamified the coffee buying experience through their unique loyalty rewards program and mobile app. 

Their app has been the main driver for the success of their loyalty program. Starbucks has perfected in-app engagement through features like online ordering, paying ahead of time, creating music playlists through Spotify, viewing reward balance, managing membership cards, and more. 
Their app works on a rewards-based system, where customers gain stars every time they make purchases through the app. Once they accumulated a certain amount of stars, customers unlock free items and discounts, from free coffees to food items. 

While this type of loyalty program requires a pretty hefty budget and resources, it can still act as inspiration for starting a loyalty program for smaller brands. 
Whether you offer free products after a certain amount of transactions, or discounts on products for loyal customers, a loyalty program encourages customers to engage with your brand and spend more. This type of gamification marketing turns one-time customers into life-long customers. 
To summarize
Gamification marketing can be used by any business and across any industry. This marketing tactic comes in all shapes and sizes, so get creative and see what works best for your niche.
Creating an immersive, unique, and engaging experience for your brand will help customers remember your name, and this is the greatest benefits of a gamified campaign.
---
Enjoy this article? Don't forget to share.