Imagine waking up to an email that says one of the following subject lines:
The following person has filled out the contact form on your website

The following person has booked you in for a consultation

The following person has purchased a product 
And this "person" is a complete stranger.
They found your website on Google and your website converted them into a new lead in your sleep!
No hand shaking, no long networking meetings, just the search engine doing its thing.
Of course, now you're probably wondering "how do I get a search engine to work for ME?"
Well, that's exactly what I'm going to cover, so keep reading!
Here are some of the top questions I will be answering: 👇👇👇
✅  How does SEO and PPC work?
✅  How do your choose between organic search (SEO) or paid search (PPC)?
✅  How can you justify the costs of PPC, SEO, or both?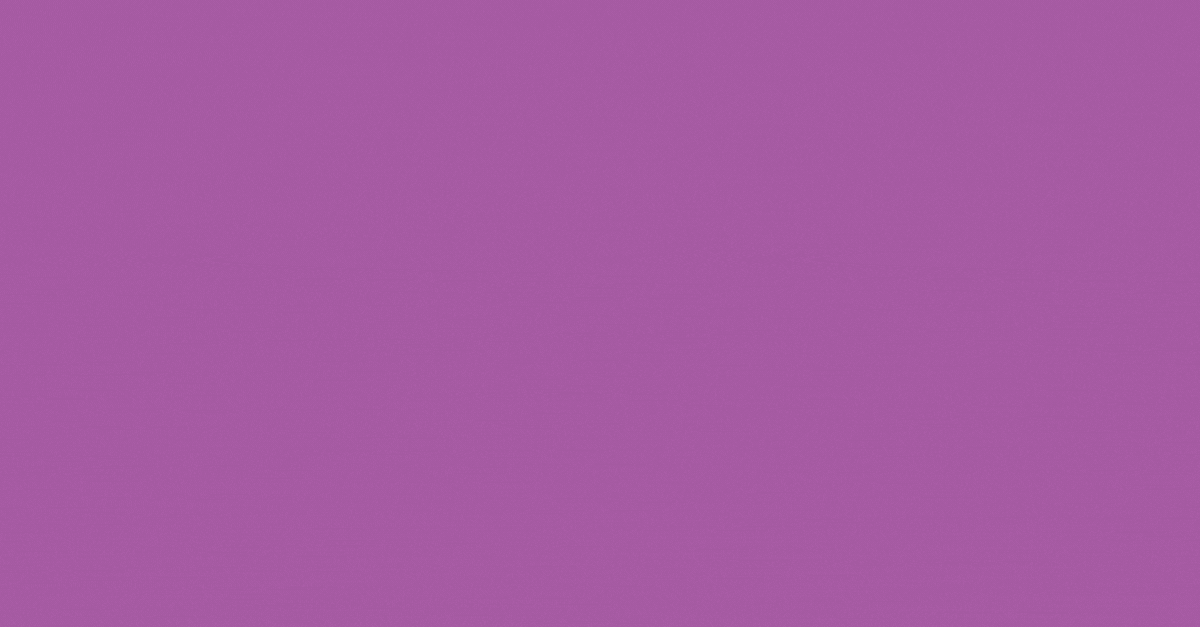 What's a search engine and rank strategy?
For all who've heard the term "search engine" or "rank strategy" but isn't quite sure they can define it, I got you! If you're familiar with this already, feel free to skip to the next section. 
Search Engine 
When we hear this term, we often think of Google, Bing, or Yahoo. These are all search engines that mainly rank websites, but also videos, images, articles, and so forth.
In reality, there are many types of search engines. Put simply, a search engine is really ANY TOOL with a search bar. 
Google is the largest search engine. YouTube (owned by Google) is the second largest search engine and it ranks only videos. Google My Business is another less evident example of a search engine, which was originally dedicated to finding brick-and-mortar stores, but recently started featuring online stores as well. Since you don't need a website to have a GMB page, it isn't ranking websites, but rather business "profiles" created on Google.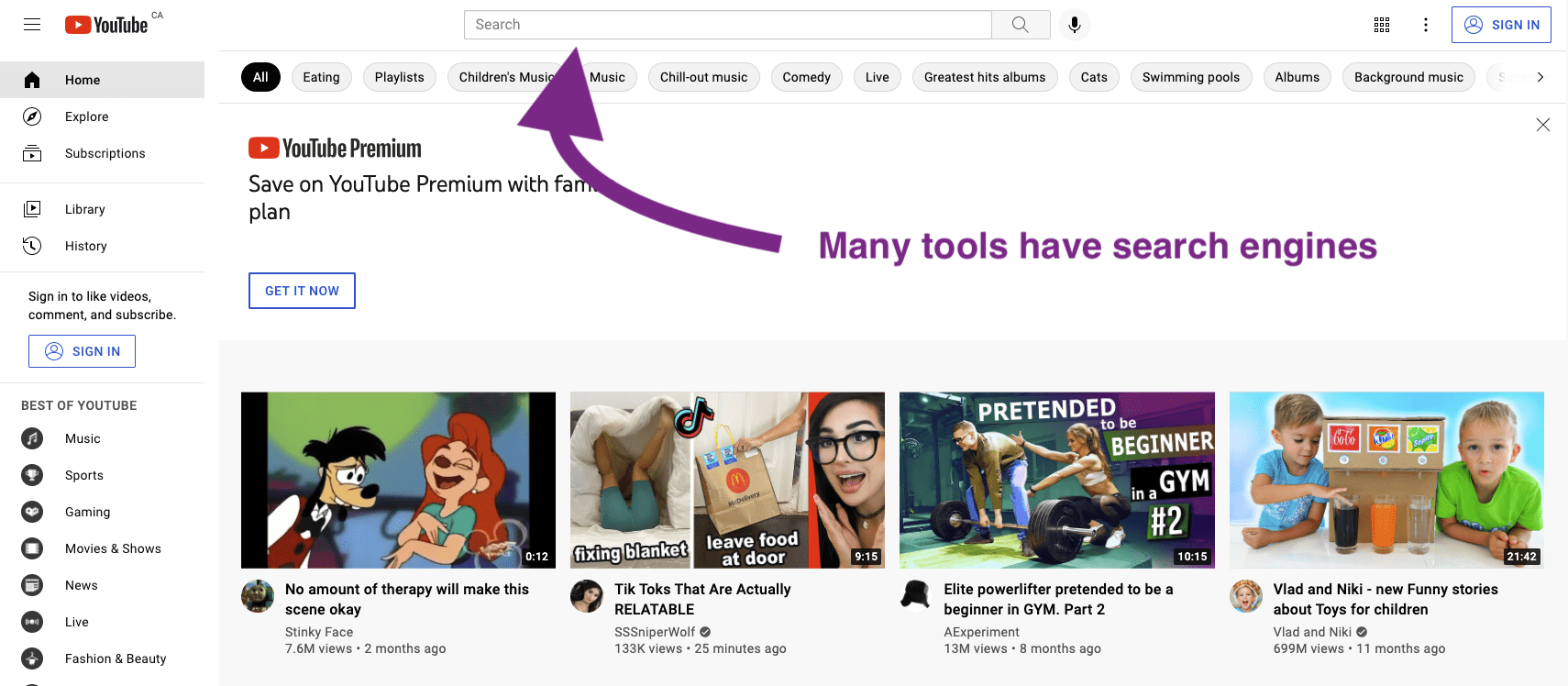 SEM: Search Engine Marketing (Rank Strategy)
Search engine marketing is a catch-all term for strategies that can help increase ranking (position) within a search engine. It's often assumed that SEM refers to Google or YouTube, since these are by far the two most used search engines. However, SEM can in theory represent any search engine and how to develop a good rank strategy. For the purpose of this article, we will continue to define two main strategies applicable to Google: SEO and PPC. 
SEO: Search Engine Optimization
Synonyms: organic search 
Search engine optimization refers to what is called an "organic" strategy. If you're thinking of organic food, you're not far off. Just like organic cooking, the term refers to the idea that the ranking is more natural in some sense. Technically speaking, every search engine has an algorithm that bases its choices on a set of rules and codes. When you try to organically optimize your website or videos to rank higher in a search engine, it means that you're trying to "follow the rules of nature" so to speak. The intention is that search engines will reward your efforts with higher rankings if you follow those rules. For example, Google rewards websites that offer a good user experience, which it evaluates based on factors like time spent on site, and the amount of page visits. 
PPC: Pay-Per-Click
Synonyms: paid search, paid ads
PPC stands for pay-per-click. This is a strategy whereby you pay a fee to show up higher in the ranking, but you only pay for the number of actual clicks your website or content gets. It's a way of buying visits to your website. Just like buying an advertisement on a billboard can help increase brand awareness and drive traffic to a store or website, an advertisement on a search engine can achieve the same effect (but is a better means I would argue). If it seems too good to be true, read on. There are a few drawbacks to this strategy, which I'll explain further below.
How does SEO and PPC work? 
There are many inner working elements of SEO and PPC, which can take years for marketing experts to learn and master. To give you a basic understanding, I'll narrow it down to explaining how keywords work, followed by an analogy.
Keywords 
Both SEO (organic search) and PPC (paid search) work by using what we call "keywords". These are the words that can help trigger an association between what a user is typing in the search bar and the results being displayed.
Let's say I search Google for "best florists in Ottawa" – this is considered the keyword that triggers my search results. In this case, the first half of the page is all advertisements (PPC) and not organic search results. There is a mix of search results (the text on the left) and display results (the pictures on the right). These are typical placements for search advertising, but ads can also appear in Google My Business or at the bottom of the page.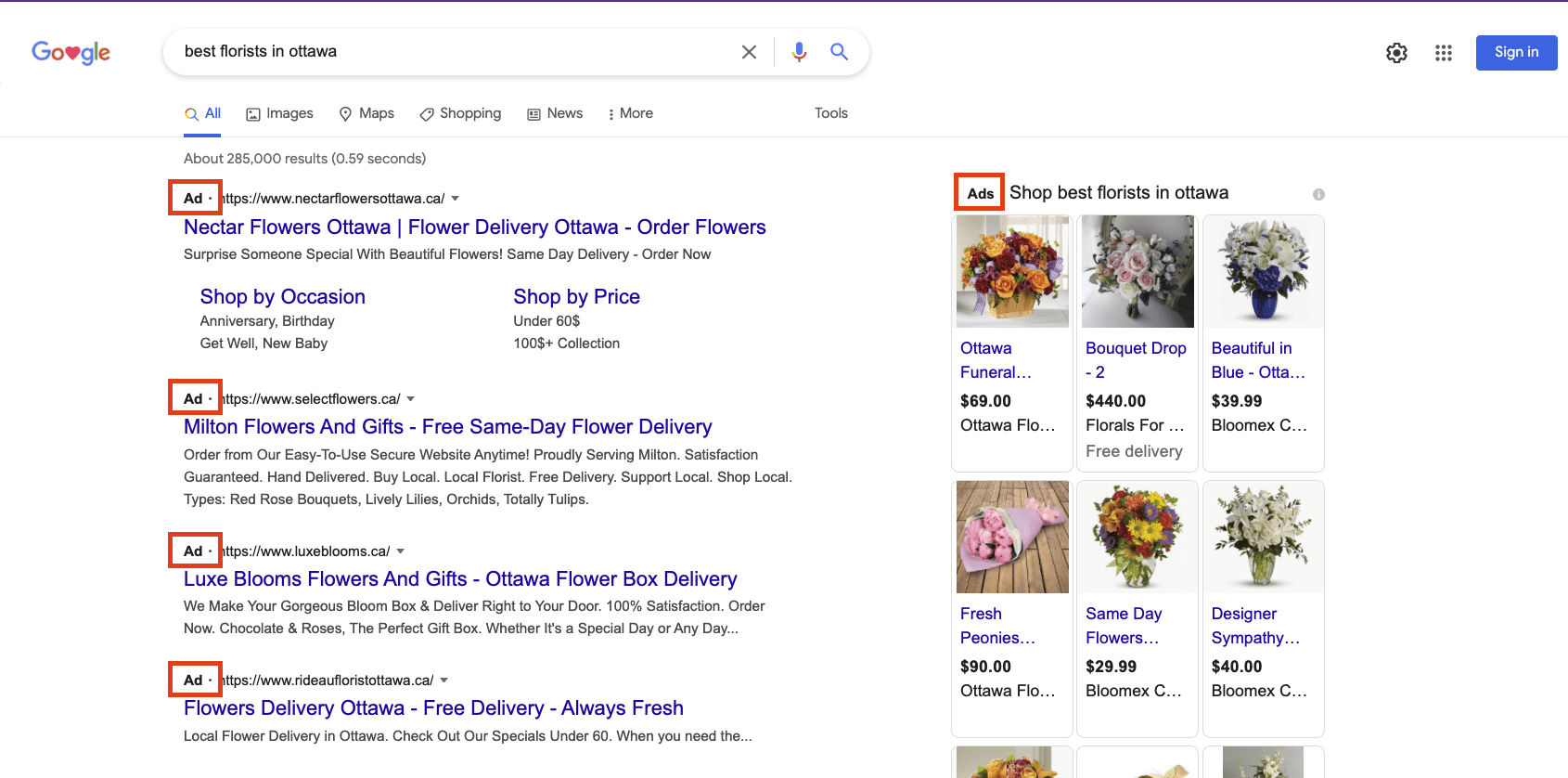 When choosing your keywords to target, it's about finding a balance between findability and popularity. We wrote an entire article on the importance of keywords and keyword research, but here's a quick summary: you want to choose keywords that are sought out after, but not already saturated within search engine results. If there's a high level of popularity, it means there's likely more competition and it could take a LOT of effort to rank high organically (with SEO). These types of keywords can be good options for PPC, but usually come with a higher cost per click.  
My analogy: renting a house vs owning a house
I like to explain SEO and PPC with an analogy of renting vs owning a house. 
PPC is like renting a house/apartment. You're basically renting your rank position. Ads will be present so long as you continue to pay. You can create an advertisement incredibly quickly and gain traffic right away. If your ads and landing pages are set up strategically, this should lead to good conversions. You can set a budget that you feel comfortable spending each month, and sort out a service cost with a provider (if you wish to outsource the work). The cost of "ad spend" is what you pay the platform, say Google, and the cost of "service" is what you pay the company to set up, handle, monitor, and adjust your ads. Not only can you budget for this expense each month, but the ad spend is directly correlated to how many people click on the advertisement. The main benefit is immediate traffic. Just like when you rent an accommodation, the main benefit is easier access (you don't need a down payment or mortgage approval).
SEO is more like owning a house, or even building a house. It requires a larger up-front investment of time and/or money. Unlike PPC, you cannot guarantee that you're on page 1 right away. In fact, it may take months or years to get to page 1 for certain keywords, depending on a ton of factors. Here are a few examples of criteria  that search engines consider when ranking sites "organically". None of these stand alone, they are all indicators that can help assess the authority of a site as a whole: 
Domain seniority: how much time a site has been active. A brand new site will have to prove itself so to speak. Whereas an older site has stood the test of time, and is considered more reliable.

Page density: how many pages does the site have. A website with many pages can be seen as a website that's more reliable and informative. 

Keyword density: how many times specific keywords are found across the site. It's important that these keywords are not forced and actually make sense with the site's written content.

Word-count: the number of words on a page and on the site overall. The more words there are, the more search engines can make sense of the content and create connections with keywords people are searching.

User experience: the quality of the experience when a user is on the site. It's important for the site to have a good design, clear navigation, and attributes that increase the time spent on site. 
I know this seems like a LOT of work – because it is. In order to hit these targets, many websites require hundreds of hours of keyword research, page building, design updates, good copywriting, and more (backlinks, etc). A lot of work needs to go into the downpayment for the house you're buying or building. The idea is that it will eventually pay for itself – you'll no longer have mortgage payments, and you can sell it. You end up "owning" your rank (to a certain extent – but beware of competition which can end up outranking you). 
When should you use SEO vs PPC? 
It's not always evident when you should use which strategy. Let's go over a list of pros and cons, followed by the importance of understanding the associated ROI – Return on Investment.
The pros and cons 
Here's a list of pros and cons to better understand the difference between "organic ranking" and "paid ranking," and their potential use  in your marketing efforts.
SEO (organic ranking)
PAID ADS (paid ranking)
Prep work involved

(HIGH) Create web pages with specific keyword choices, large amount of copywriting, good design, and attention to keyword ranking

(LOW) Create ads, ensure they lead to effective landing pages that make sense for the keywords being targeted

Traffic time

(SLOW) It can take a long time to start ranking higher in search engines, depending on how much work a website needs to compete 

(FAST) Your ads can start working the same day they're created

Guarantee of rank

(NONE) You could spend months on SEO and still not see results if your competitors are simply doing a better job at it than you

(GUARANTEED) You

will

rank with ads and this

will

drive traffic

Cost 

(EXPENSIVE) Copywriting, page building, and web design  can be very costly – whether you outsource this work, or invest your own time into doing it 

(DEPENDS) You can tailor your budget to decide how much you want to spend each month and guarantee traffic. 

Restrictions

(NONE) There are little to no restrictions when it comes to search results, except for the black market. You can search for many products and services that may not be able to use PPC advertising due to advertising laws, such as cannabis products.

(HEAVY) There are many industries that experience restrictions when it comes to advertising such as health, cannabis, therapy, cosmetic surgery. It can be difficult to create ads that follow all the rules and don't get banned.

Longevity

(DEPENDS) A chance to maintain long term ranking is available for site owners that are either lucky (low competition let's say) or worked hard

(NONE) If you don't pay, your rank is essentially gone
If you're okay with investing a lot of your time (or paying another company), can be patient when it comes to seeing results, and accept that continuous maintenance will be involved, then SEO might be the right choice for you. This is especially true if you work in an industry that faces many restrictions for paid ads. At the end of the day however, you do not have to choose one or the other – both SEO and PPC can be used in collaboration to improve your website's traffic. 
Understanding the ROI (return on investment)
Both PPC and SEO can be used simultaneously to leverage higher rank results and generate conversions. So how can you justify the cost? Like anything else for your business, you need to calculate the return on investment.
The quickest way of doing that is by running paid ads to gain traffic immediately. The more you invest, the more data you can gather. Let's say you start small, with $500 of PPC advertising. You can then calculate the following: 
The cost of acquisition:

how much did it cost to acquire one new lead to your website? Once you run your campaign, you'll know how many clicks you got for the $500, and you can divide the total by the number of clicks to get the cost of acquisition. Let's say it was 7 clicks. The COA would be $500/7 = $71. 

The cost of conversion:

the second thing you need to know is how many of those leads converted into paying clients or customers. Say only 1 click converted into a client – the cost of converting  one client would actually be $500 in this case. 

The customer lifetime value:

$500 seems like a lot, but it depends what business you're in. Ask yourself how much a client will purchase over the course of their lifetime with your business. Let's say one customer purchases a monthly $1,000 service. Over the course of the year, that $500 has now turned into $12,000. 
It's clear that paid ads can lead to immediate results and sales, so is there a case where you would NOT use them? 
U7 Solutions is a great example of a business that opted to use SEO instead of PPC. About three years ago, 100% of our business came from word-of-mouth referrals. This meant that the entire business solely relied on shaking hands with everybody and joining in-person referral networks. We had a good amount of business, but we wanted to grow our services and our team. We decided to redesign our website to improve the user experience, and increase the page count, word count, and keyword density and relevance. 
Since launching the new U7 website three years ago, we regularly get compliments but most importantly, a steady stream of legitimate leads. Leads that we regularly convert to new clients. As an example, last year, our website produced a lead that turned into a loyal client with recurring projects totalling over $150,000 of business. And just recently, another $50,000 project. 
In just the past  two years, our team has quadrupled in size and our $20k investment in the revamped website has paid for itself many times over. 
Both PPC and SEO can do wonders for a business that wants to generate traffic in their sleep, but there are advantages and disadvantages to each. Luckily, you can choose instant gratification with paid ads at the same time as playing the long game of SEO to organically improve your website's ranking. When done correctly, both strategies will pay off in the end! 
Need help getting started?
We know how overwhelming it is to run your business, let alone trying to manage your digital presence as well. Our marketing experts know this stuff like the back of their hand – so you don't have to. Whether you're looking to utilize the power of PPC and/or SEO, let us show you why outsourcing this work might be the best decision you could make. 
Schedule a free consultation call with us today to learn more.
---
Enjoy this article? Don't forget to share.