Increasing website conversions should always be the focus when writing copy for your website. Depending on the goals and structure of your organization, what is considered a conversion will vary, but most of the tips said here will apply to all types.
Whether you want to increase registrations for an event, increase calls to your organization, increase contact form submissions, or even newsletter sign ups, your copywriting can and should be focused on achieving those outcomes.
Here are five copywriting tips to boost conversions on your website:
1. Define your conversion based on the audience
The first step of effective copywriting is identifying your target audience and what their needs, desires, and interests are. When thinking of boosting conversions, you also want to ask yourself what type of conversion would be best suited for them.
Language, CTCs (call to actions) and other aspects of a website can vary based on it's intended audience. 
For example, websites targeted towards older demographics may consist of call to actions focused on calling the business, or signing up for a newsletter. Whereas websites intended for younger audiences may have call to actions focused on engaging with the business on social media, or watching videos.
You want to first identify the characteristics of your audience based on various demographics: age, sex, income, interests, etc, and ensure that your CTAs speak to those demographics.
2. Emphasize action
Boosting conversions means increasing action on your website. 
Call-to-actions are a great way to guide customers in taking specific steps on your website. A call-to-action is basically a phrase on your website that tells users to take certain actions. They can be in the form of buttons, images, plain text, etc. 
You should be including call-to-actions all throughout your webpages. They should be easily identifiable on your webpage and entice users to engage with them. 
While CTAs are effective in encouraging users to take action on your website, injecting action verbs and phrases throughout your webpage copy is also extremely important when trying to convert website visitors. 
For example, if you are trying to get users to sign up for your newsletter on your website, rather than simply having a "submit" button at the end of the email opt-in form, offer the customer an incentive for signing up and adjust the button (call-to-action) accordingly, such as "claim you discount".
Actionable copywriting entices users to take action on your website, especially when there is an offer on the line. 
3. Write compelling headings and subheadings
Be sure to structure your content with enticing headings and subheadings.
You can think of it like each web page is a mini book, and you need to create chapters within the book. These chapter titles are called headings/subheadings. Your book title is the H1, and the following "chapter" titles are H2s.
You can also have H3s and H4s. These are added each time you create a new title within another title's section.
The screenshot below is of our website accessibility blog post, and you can see how we've used headings and subheading strategically to organize content. 
Headings are a great way to split up content on your web pages so that it is more digestible and easy to follow. 
When crafting your webpage's headings and subheadings, you want to use catchy wording in order to keep users engaged. List articles are a great example of how catchy headings encourage users to spend more time on a webpage. 
Headings are also great for SEO purposes. Read more on other on-page optimizations that will help your SEO. 
4. Keep your sentences short and simple
Readability is crucial when it comes to effective copywriting.
Why? Because, if your text is too complicated, your audience might have trouble understanding it. Consequently, they may decide to leave your website and look for information elsewhere.
Simple and concise copy enhances your website's user experience, not only making your content easier to digest, but it also enhances the look and layout of your website.
The Fleischer scale scores your content by how difficult it is to read and comprehend. On average, you should aim for a grade between 80-100 and consider the audience you are writing for. Some topics or business lines are more difficult by nature, and that's okay! Make sure to write for your audience, and don't complicate things if you don't have to.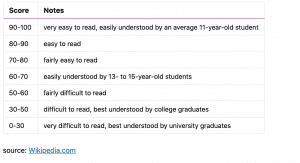 5. Add internal links 
Internal links are links on a webpage that lead to other pages on your website. None of your internal pages should stand alone. Make each page an integral part of your site and include seamless navigation.
Ideally, pages addressing the same or related topics should be linked together in order to provide a rich experience for the users.
For example, we wrote a blog post about competitive analysis for SEO, and linked to another related article within the blog post about keyword research. 
Adding internal links within your website copy encourages users to stay on your website longer. It also gives you the ability to steer customers to other potential services or products that they could be interested in. 
Like most things in life, boosting conversions is easier said than done.
Conversion-focused copywriting isn't something that comes naturally. This type of content creation takes time and expertise.
Our clients are fortunate to have a team of copywriting experts that help them stay on top of their goal conversions – plus, we also track them!"
If you're looking to increase conversions on your own website, message us today for a free quote!
---
Enjoy this article? Don't forget to share.