Listen up all business owners!
Are you still trying to figure out how to do everything in your business, including online marketing? 
When you started your business, you were told online marketing would be easy.
"Throw some content on a website, write a blog post or two, slap some pictures on social media, and you're good to go," they said. 
Let me know if this sounds like you… ⁠
👉🏼  you aren't sure what online marketing efforts are most important
👉🏼  you literally have no idea how to even begin with a content marketing strategy to create consistent and lead generating content ⁠
👉🏼  you don't know what marketing should cost when it comes to blog writing, content creation, and advertising.
Whether you're a solopreneur or SMB owner, trust me, you can benefit from outsourcing all that burden to a marketing professional (or better yet – a whole team). ⁠
Let me bring you up to speed on why you can't afford to NOT outsource your marketing.
5 Reasons you can't afford to NOT outsource your marketing
We know the tale – just because you CAN do something, doesn't mean you should. Your business is meant to create financial and personal freedom, not chain you to all the new marketing tools and practices out there. Here are six reasons why you can't afford to not outsource your marketing. 
1. Strategic under-sight 
No matter your industry, I bet you feel like you're constantly playing catch up with all the marketing tools and strategies out there. It's overwhelming for full-time professionals to stay up-to-date, let alone business owners who are concerned with their own industry best practices, team members, cashflow, accounts receivables, and so on. Counting on yourself or a general assistant to manage your marketing is like expecting your dad to cook dinner – it happens in a blue moon – but mac n' cheese only provides so much sustenance (love ya dad). 
The bottom line is that a marketing professional or agency not only has a deep understanding of industry metrics and marketing tools, but also the systems to uncover the best ideas and possibilities for your business. 
2. Hurting your business' brand
Snowballing off of my last point is the impact of mediocre or bad marketing campaigns on your brand. A brand image is a reputation that needs to be tailored and groomed.
Do you agree: It takes a lifetime to build a reputation and a second to destroy it?
In the time of "cancel culture", a brand's perception and online presence needs to be carefully curated and monitored. Does anyone else look back at their old pictures thinking, "HOW THE F DID I THINK THIS WAS A GOOD HAIRSTYLE?!" 🤣 
A marketing professional or agency is that honest friend that tells it like it is (with the expertise). Even when you don't want to hear it.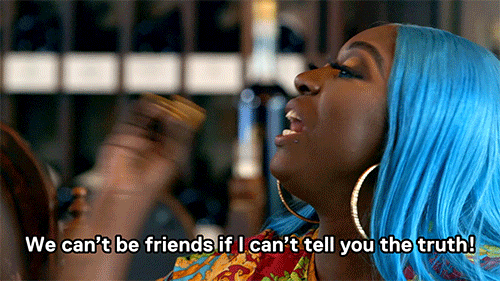 3. Lost sales
Hurting your brand image can decrease sales, and in rare cases lead to bankruptcy. But the most applicable case of lost sales due to marketing is when it comes to missed opportunities.
Tell me – is your business utilizing the online space as efficiently as possible? What are you doing to tap into the 4.33 billion social users around the world? How are you attracting the ideal number of clients to meet your monthly and yearly revenue goals? 
Whether it's inconsistent posting on social media, bad content production, not utilizing the right platform, or simply placing your eggs in the wrong basket. That money you saved by not hiring a professional or team is potentially limiting your sales potential. 
Ignorance is bliss… Unless it's costing you money.
4. Lost time
You know all those other things you need to do for your business? You should find time to do that. How? By spending less time on items you can outsource or get professional help with. 
Marketing professionals and agencies have systems that they repeat, they're familiar with the tools, and have experience with a number of scenarios and different types of clients. The amount of time saved by tapping into that level of efficiency will not only provide more quality work but also speed up your marketing efforts.
Spending your precious time on something that would take a professional half the amount of hours is not doing you any favours. 
5. Missed insights from tracking metrics 
What most business owners don't know can hurt them when it comes to campaigns in the digital space. Paying attention to what works and what doesn't based on the metrics provided by each marketing tool is key to doing well online.
Whether it's the increase of your email marketing list, the clicks on your latest newsletter, the engagement, and follower growth coming from certain types of posts, all of this can be analyzed for future optimizations and improvements.
There's a lot to learn from the users who are interacting with your content, and marketing professionals will provide those analytics.
So, how much should you pay to outsource your marketing?
Like most small business owners, you might be skeptical about outsourcing your marketing. For years now, you've been handling all of it yourself because you understand the importance of a good brand, website, funnels, social presence, and email marketing. 
In today's age of information, the problem isn't so much that you can't do-it-yourself from a technical standpoint, but rather that it isn't the smartest use of your time. Ask yourself: what can only you do for your business? Is it improving your products? Remodeling your services? Increasing partnerships? 
It's important to consider the ROI – Return on Investment – of your actions. Hiring a company might cost a pretty penny, but what's the cost of you spending time on marketing and having less time for your other business duties? Or the cost of losing out on sales because your strategies aren't effective?
Is it time to outsource your marketing? 
Everybody's aiming to make the best use of their time and money. As a business owner, it's important to hone in on your most necessary tasks, and also those that make you feel most alive and joyful. 
Marketing is a business activity that shouldn't be ignored or undervalued. That doesn't mean it needs to be YOUR top priority.
Our client Loren Crawford Yoga said it best:
"Working with a marketing professional is something I would not have considered in the past simply because I had a scarcity mindset – I couldn't afford such a luxury. Rather, I spent bundles of money on a property that ultimately failed; I concocted a rebranding exercise a few years ago that also failed; and I made many decisions about my yoga business that were – to be kind – growing pains. With a spark of inspiration and a leap of faith, I'm happy to say that's all shifted. I'm pleased with the results of the marketing investment I'm making in myself and my yoga business."
Are you feeling ready to talk about your digital marketing efforts with our team of experts? Explore how U7 can help with your digital marketing needs and book a free consultation today.
---
Enjoy this article? Don't forget to share.