If you're currently dreaming of a way to have the online presence you want for your business without…  
Needing to stay on top of all the trends

Creating your own graphics and photography

Constantly "showing up" to promote your business

Take MORE trainings to do marketing the "right" way 
THE ANSWER IS: outsource your digital marketing.
Understanding WHY you should outsource your digital marketing is the first step. 
And from there, planning your consultation is the next.
Many companies and consultants offer free consultations to see if you'd be a good fit.
But listen, I know you have doubts, like:
What do I ask in this consultation?

How will I make sure this company really *gets me* and my business?

What about the logistics like coming up with content, deciding which information to share and in what format, and how it works?

Will this REALLY be a worthwhile investment?
Wouldn't it be amazing to have questions laid out in a free article? Well, ahem, let me answer your prayers. Here are five questions I recommend asking in your digital marketing consultation with explanations for each.
1. What digital marketing services and areas of expertise do you cover?
Not all agencies or consultants are made equal. 
Firstly, this article is specifically about digital marketing services – which is already one specific branch within marketing – normally distinct from "old media marketing" (tv advertising, newspapers, magazines, paper mail, radio ads, billboards).
But digital marketing itself is a very broad field that can include multiple areas of training and experience. 
A few examples of niches are as follows: 
Media 

Business strategy

Copywriting

SEO 

Paid advertising 

Web design
 To show you a further level of complexity, you can niche down even more for each of those categories. Here are some examples.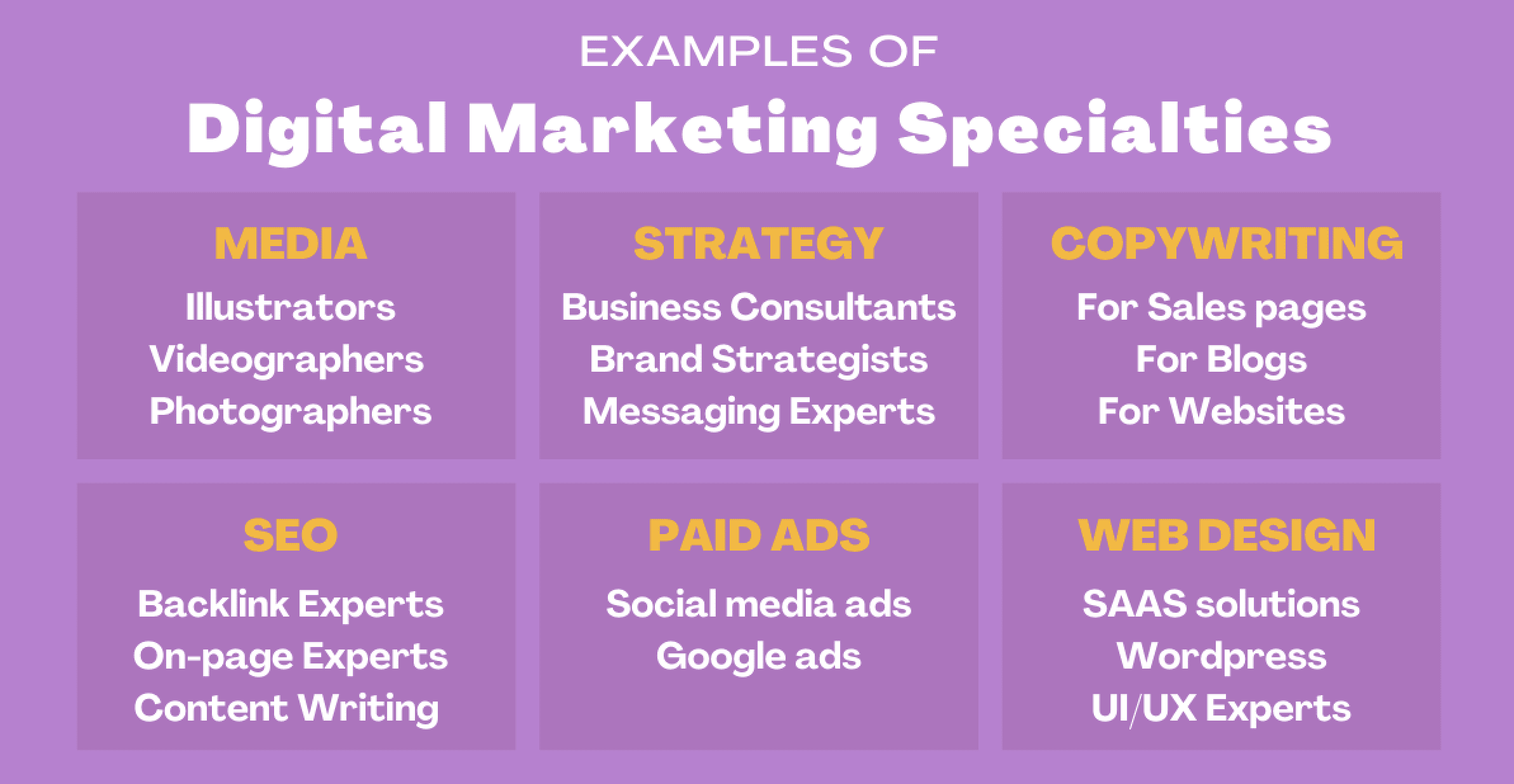 So, WHY would you go down this rabbit hole of a question if you're not a marketing expert? 
Generally speaking, your aim is to identify whether this is a specialized or more generalized marketing agency/consultant.
If you're unclear about what your marketing goals are or you're looking for a few different services, then it's helpful to choose a provider that offers a broader range of options.
Plus, a provider that offers a number of services is often less biased in its evaluation of your current and future marketing needs. It's not tied to one option that it offers. Whereas a company/consultant that is more specialized might sell you on something you don't need. 
However, that being said, if you happen to be 100% convinced that you can say, really leverage the right amount of traffic through Instagram alone. Looking for an instagram expert specifically can be the right way to go. (this can also be available in larger agencies, but you'll likely get better prices with a specialist).  
2. Which industries do you have experience working with? 
Not only is marketing varied, but the industries that companies have experience working with can be extremely diverse. 
From fitness, fashion, cinemas, and construction, to clothing, yoga studios, online courses, real estate, language instructors, tech companies – you name it, many marketing companies and consultants are open to working with any of these industries. 
That's because it often doesn't matter if their clients want a website, SEO, or other services, done for a wellness spa, local gym, or restaurant. Regardless of the industry, they know the technology, the process, and work involved. 
Now that being said, there are providers that do choose to hone in on one or multiple industries. For example, take Grace and Vine Studios, a web design company that specializes specifically in creating websites for food blogs.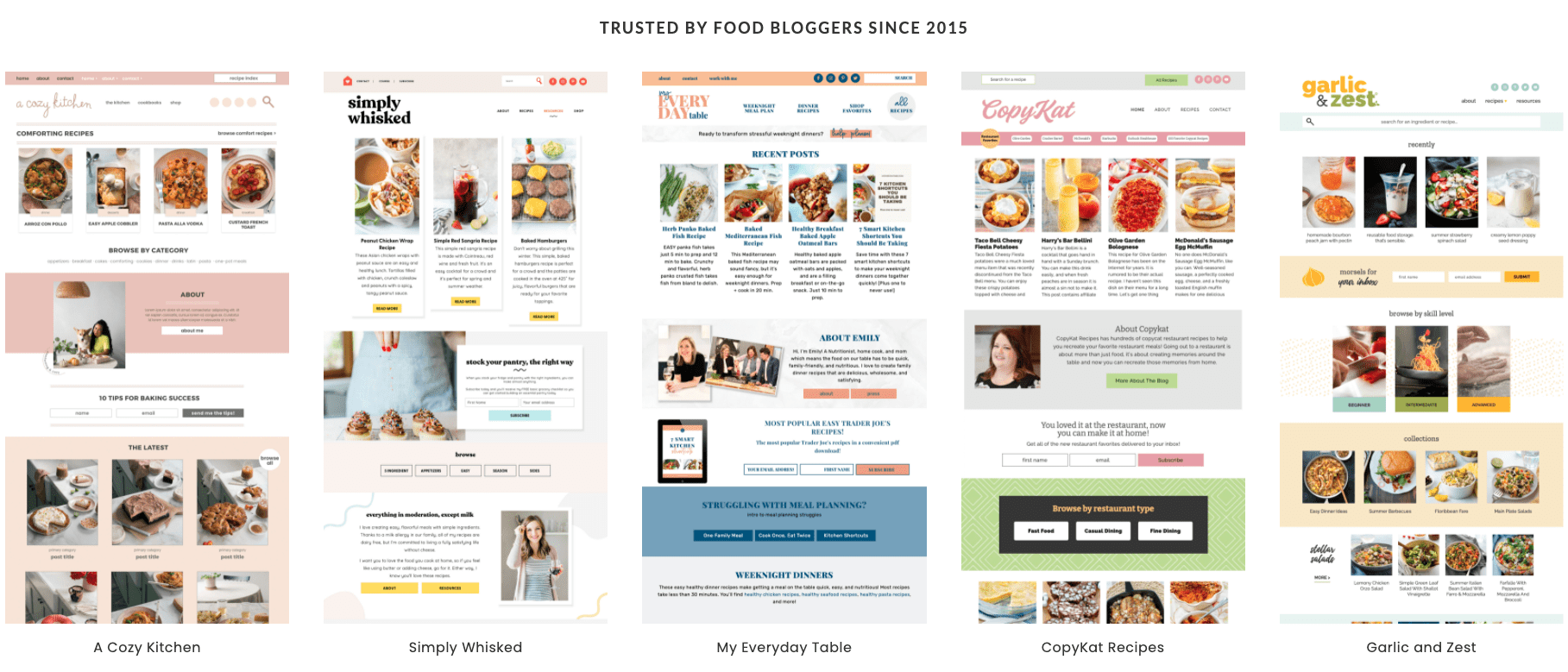 Unlike a web designer who might've never created a food blog before, this company likely doesn't have to go through a thorough research and strategy phase to understand all the best practices for this industry. For clients, this might mean a faster and more efficient process, and even a cost-effective approach.  
Could there be any downsides to hiring "an industry specialist"? There could potentially be a conflict of interest if your provider is working on another competitors' ads, social media, or any marketing that you feel would overlap. In the case of Grace and Vine, you might say that some of their client's websites look very similar, but this could also have helped cut cost and is the "winning recipe" they've identified after a number of years.
3. How will you make sure to capture my needs and preferences? 
If you've ever wondered how another business can "run your marketing", truly get you, and take work AWAY from you as opposed to adding to it… It's (usually) because marketing agencies and consultants have a thorough onboarding process. 
Agencies that just "IMPLEMENT" are not taking the time to truly understand your needs, vision, and evolution. You should go through a process whereby the company gets to know your business, the goals you want to achieve, where you are now and what the future holds. 
On top of that, companies need to take the opportunity to challenge some of your preconceived ideas that might be untrue. For example, many of our prospects and clients at U7 Solutions have misconceptions when it comes to certain web technology. During our strategy phase we address and debunk any misconceptions to find the right path.
All in all, the strategy phase is meant to establish a plan that you're both in favour of. 
If you're uncertain of your marketing efforts and path, a general needs analysis and research process can provide great insight, but also cost more money due to the amount of labour involved. If you know that you specifically want certain services, say social media work for instance, the needs and strategy phase can focus on the best practices for that medium.
This process should involve a number of calls and touch bases to discuss ideas and paths. You will end up with a strategy and price plan for the execution of those services.
4. How do you price your marketing services? 
This is probably THE most important question because many things are possible in theory and practice, but what's realistic will depend on the budget you want to allocate to your marketing efforts and the pricing offered.
A digital marketing provider can do way more with a 10,000 budget than a 1,000 budget.
It's important to gauge your expectations according to what you're willing to invest, and also the pricing models offered by the provider. 
Digital marketing services can be priced in a number of ways. This isn't a full list of options, but here are three examples to help you understand. 
Project-based pricing
Some companies/consultants choose to price their services on a project basis. This is most sensical for anything that has a start and a due date. Website projects are a great example of this. You will have a certain timeline for the project to get completed and they will quote you for that project with a specific outline of the work involved. 
Depending on the cost of the project, there's often a number of payment plans, say for instance 2 payments or 4 payments, that happen at different milestones. For instance if there's two payments for a project, one might be expected at the beginning to commence the project and ensure payment, and the next half-way through for the completion. 
Monthly pricing
Another pricing model is done on a monthly basis. This is often most applicable for ongoing marketing work. The onboarding could be done separately with it's own quote, and once a strategy and plan is established, a monthly pricing model could be put in place. 
This makes sense for a number of services like social media, copywriting, paid advertising, and newsletters. If you can establish the deliverables that are expected each month, the company can provide a monthly plan and invoice you for the work at the beginning or the end of each month. 
Revenue-based pricing
This model is most applicable to the paid advertising industry. Whereby the work is done on a contract or campaign basis and the provider pays themselves a portion of the generated ad revenue. That way they are tied to the outcomes and the idea is they have an investment in generating more revenue.  
There isn't one model that's necessarily better than another, but it's a good idea to understand which one you'll be tied to and …
5. How do you evaluate digital marketing success?
In the end, marketing is meant to produce results.
What those results should be is up for discussion and debate. There are a number of metrics that can be valuable for different purposes. 
The provider you speak to should be able to explain at least in a general sense that these metrics will depend on your goals, which can be established in the onboarding and strategy phase. If you have one very specific campaign that you're working on, then the answer may be more straight-forward. 
Here are different types of metric categories that can be of interest to consider.
Leads 
Many service or product based companies want to gather leads in addition to or instead of selling services/products directly online. These digital leads can come in a number of forms: DMs on social media, a completed contact form, a call to your business, a new mail list subscriber, a webinar sign up, etc. These leads can then be contacted to further a conversation or funnel towards a service, product, program, and the like.
Sales and purchases
Some businesses or organizations want to track how many sales, donations, or money they've made online. This can be done through website shops with products, or sales pages selling service packages, or even platforms such as patreon which offers monthly subscriptions. 
Engagement 
Now in addition to leads and sales, which may seem like more straight-forward or "important" metrics, engagement can also be a large part of an online strategy. For instance, youtubers make ad money based on their number of video views (not subscribers). But along with aiming to "engage" people online with your content for money, engagement can be a sign of a strong brand, and keep people interested in your company long-term. This can be evaluated via social media metrics like comments, likes, shares, saves, followers, or even website metrics like traffic, time spent on site, time spent watching videos, and so forth. 
Awareness 
And last but not least is awareness metrics. Some companies, organizations, campaigns, or marketing efforts are strictly targeting awareness metrics. This is mainly aligned with impressions, the number of people that see something. Think of ads on websites, or social media posts. Sometimes people see these yet do not interact or engage, but it still has a lasting impact and can persuade them to research what they saw later or remember it.
Your digital marketing provider should embrace these questions with open arms.
If you keep your questions too superficial and don't dive into topics such as experience, budget, and implementation… you could be doing yourself a disfavour.
Hiring an experienced marketing professional or agency can free up your time when you do it right. A marketing agency should embrace your questions and be willing to answer all of these or at least provide some insight for each. If they cannot, they may not be experienced enough or the right fit. 
At U7 Solutions, we will embrace your questions with open arms. If you're ready to take the leap and let the U7 team upgrade your marketing, let's get on a digital marketing consultation today.
---
Enjoy this article? Don't forget to share.