Monitoring your marketing efforts not only helps you stay on top of business goals, but it allows you to know exactly how much money these efforts are both costing and generating.
Whether you are tracking the number of website visitors, number of shares on your social media posts, or the open rate on email marketing campaigns, these are all instances of performance marketing, and they are all valuable pieces of data that allow you to make sound decisions regarding your marketing efforts.
What is performance marketing?
In short, performance marketing is the act of tracking and monitoring the performance of your business' marketing efforts. It's important to track marketing efforts as a business because you should know exactly how your marketing budget is being spent and how to adjust your efforts and strategies based on the data. After all, how can you know what is and isn't working if you're not tracking it?
The issue today is that so many business owners are throwing money into their website, Google My Business, social media, paid advertising, and SEO, without taking the time to investigate what's working and what's not working.
Performance marketing gives you the ability to clarify your online goals, support business objectives, get to know your audience, and so much more. Let's go over some of the key digital marketing tools most business owners use such as a website, Google My Business, social media, paid advertising, and SEO, and how we can ensure the ''performance'' aspect of those marketing tactics.
Website insights
Monitoring website insight is crucial if you are wanting to learn more about your audience and how they interact with the content on your website. 
As you can see in one of our reports below, we were able to highlight some interesting website data for our client  in regard to several key metrics, such as new visitors, website sessions, bounce rate, etc. 
Since the number of new sessions was down this quarter compared to the last, we can now make marketing decisions that will improve this number, such as creating online advertisements or sharing the website on social media. 
Another valuable piece of data is traffic source. This allows you to determine where your website traffic is coming from, allowing you to make adjustments in order to reach large audiences. 
Some key metrics to focus on: Bounce rate, sessions, session duration, visitors (new vs old), web acquisition, 
Google my Business
Google My Business is a tool that can help connect people with local businesses in their area. Google My Business Insights allow you to monitor how customers search for your business, which can be extremely helpful when developing marketing strategies around SEO and paid advertising.
For example, if the number of customers finding you through discovery is low, you may want to look into improving your organic SEO so that you show up more within Google search results. However, if this number is high, it means you are ranking well within search engines for key phrases that are related to your product or services. 
Some key metrics to focus on: Views, how and where customers are finding you, customer actions (this can be in the form of a phone call, website visit, message, etc.)
Google ads
Using a search engine advertising platform like Google Ads gives you the ability to track how people engage with your ad, such as how many people viewed your ad or how many people took action on your ad.
This type of data really comes in handy when you are trying to figure out how to target your audience. For example, perhaps you try running two different ads on Google with different content. Monitoring how each ad performs will allow you to determine which type of ad resonated better with users, and allow you to tweak your strategies moving forward in order to reach a larger audience. 
Some key metrics to focus on: Impressions (any time your ad is shown on a results page), cost, clicks, conversions 
SEO (Search engine optimization)
SEO (or search engine optimization) is the practice of improving a variety of areas of your website to increase its visibility for relevant searches within search engine results.
Search engine optimization is an ongoing process. It requires constant monitoring and tweaking in order to stay ahead of the competition. 
For example, let's say you want to rank for a specific keyword within Google search results. It's important to keep track of your ranking and the competition's ranking so that you can adjust your SEO efforts in order to maintain a higher position within search results in comparison to your competitors. 
Below is a competitive map of how a rehab business is currently ranking for certain keywords/key phrases in comparison to their competitors.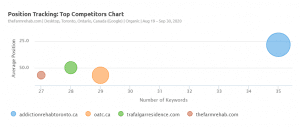 This data is important because it will give you a better understanding of how many keywords your competitors rank for related to yours, which can encourage you to diversify your keywords or work on increasing the amount. 
Secondly, if your traffic is substantially lower than competitors, you can consider increasing your inbound lead strategies such as SEO, paid ads, social media, and email marketing.
Here is an example of insight for the same business, displaying their current ranking within search engines, or SERP (search engine results page), for specific keywords. SERPS are web pages that are displayed to users within search engine results when they search for related keywords or key phrases.  
It's important to consider SERP when choosing and analyzing your keywords, because you want to ensure that your keywords have a relatively low SERP, as this means you are ranking near the top of Google search results.
Another important piece of insight to consider for SEO is backlinks. 
Backlinks are essentially links on other websites that lead to your website. Monitoring your backlinks ensures that you do not have any toxic backlinks leading to your website, and allows you to scope out the competitive landscape.
Toxic backlinks are links on websites with low authority that lead to your website. These type of links can weaken your website's SEO and  credibility, which leads to fewer visitors. 
Learn more about the importance of back linking within performance marketing.
Some key metrics to focus on: Keyword ranking (for both you and your top competitors), organic traffic, overall site health, domain and page authority, backlinks
Social media
Depending on your social media campaign goals, there are a variety of areas to measure in order to effectively monitor and see tangible results for your marketing efforts.
Let's say you want to monitor your Facebook reach in order to target a larger audience. Within Facebook Insights, you can easily track how many users are visiting your page, how much engagement your page is receiving (likes, comments, shares), and the overall amount of times your page's content is being seen in news feeds.
This data can help you tweak your social media marketing efforts in order to increase engagement and traffic. For example, if you notice the amount of engagement is higher on post containing images as opposed to graphics, perhaps you will want to post more images. You can also track peak times to post on your social media platforms, so adjusting your posting habits based on this insight could also boost engagement and improve social media performance. 
Some key metrics to focus on: Engagement (likes, comments, shares), awareness (impressions, reach), audience (demographics, peak hours).
There are many facets to performance marketing and many areas of your business that you can be tracking right now in order to stay on top of business goals.
Performance marketing allows you to stay ahead of your competitors and make sound business decisions. It's important to monitor your performance on an ongoing basis, and if done properly, can pay off big time in the long run.
If you need help getting started on your business' performance marketing strategies today, check out our Performance Marketing Service Page.
---
Enjoy this article? Don't forget to share.