When you want to find a local service or product, you can type a few words into Google Maps, and boom there ya have it – a business that's ready to cater to your needs. 
Whether you just got a new furry friend and need a local veterinarian, want to find a second-hand store nearby, or are proactively trying to organize your food itinerary for a trip to Mexico, Google Maps will help you find options.
Not only will it give you the address, you'll likely be able to browse photos of the service and location, read reviews, explore their website, call, and most importantly – get information on the fly without having to physically show up. 
For a business, this digital visibility is key to attracting an increasing amount of clients who are using their phones and computers to find what they need. Whether they're going straight to the google maps application or using the main search bar, businesses on Google Maps get great (and may I add, free) recognition.
You see, when your ideal client types what is called a "search query" in the Google search bar, the results often get categorized like this: Google Ads (if there are any), Google My Business listings, and THEN standard website links (also known as organic results).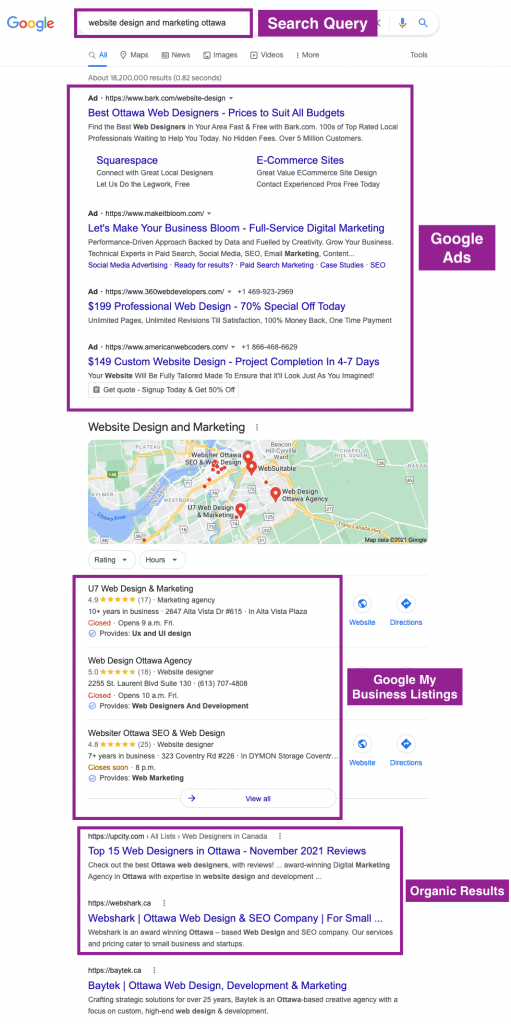 This is huge. Having your business show up on Google Maps may end up being more effective in helping people find you than your own website. So if this excites you, keep reading for tips to help your listing stand out in 2022.
I'll start with covering a few basic areas and then I'll segue into some of the underutilized features that will help you really stand out. 
Firstly, in order for your business to show up on Google Maps, your business needs to have a Google My Business account. Any business with a physical location OR any business which visits a physical location, like a customer's home or business place, can qualify for a Google My Business listing. From Google, "In order to qualify for a Business Profile on Google, a business must make in-person contact with customers during its stated hours." You can also set a radius of the area you provide services to. 
Not only is this a free tool for businesses, it's also very easy to set up with the standard (and underutilized features). 
The Standard Setup
Here's a list of the standard information that you should always enter on your Google My Business profile, which I'm going to split up into two categories: less than 30 minute set up, and potentially more time consuming items.
Less than 30 minute set up 
These are the off the top of your head pieces of information that require just your mind and the keyboard.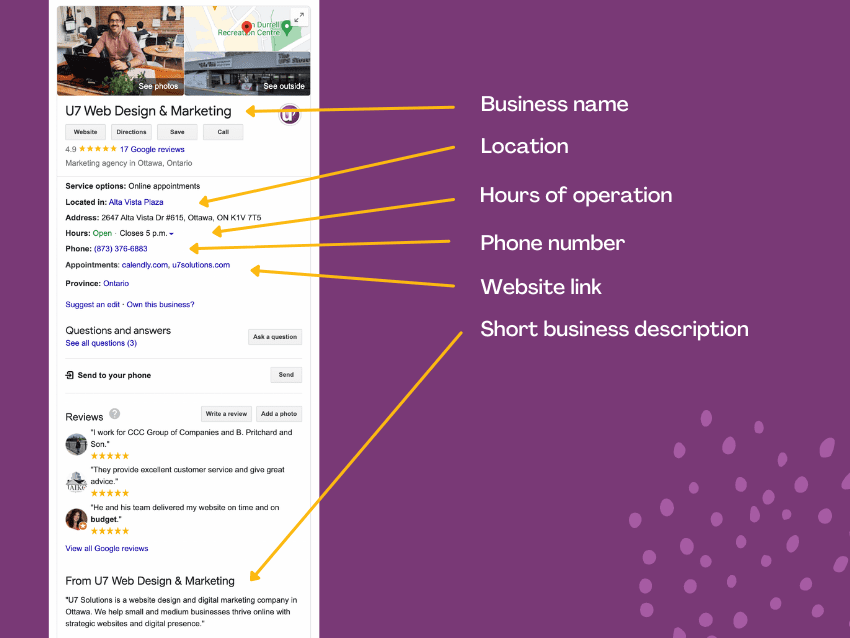 And the last item I would add to this list is to claim & verify your account. The purpose of this step is for Google to minimize the amount of fake listings. Once you claim your account, it will be more visible and you will be able to manage reviews. You simply provide Google with an address where they can send you a piece of mail with a code. Once you receive this, you add the code to your account, which helps confirm that you are indeed who you say you are and own this business. Claiming your business is more of a "back-end" type of requirement. Make sure the address meets guidelines, and read this article for further instructions on claiming your business.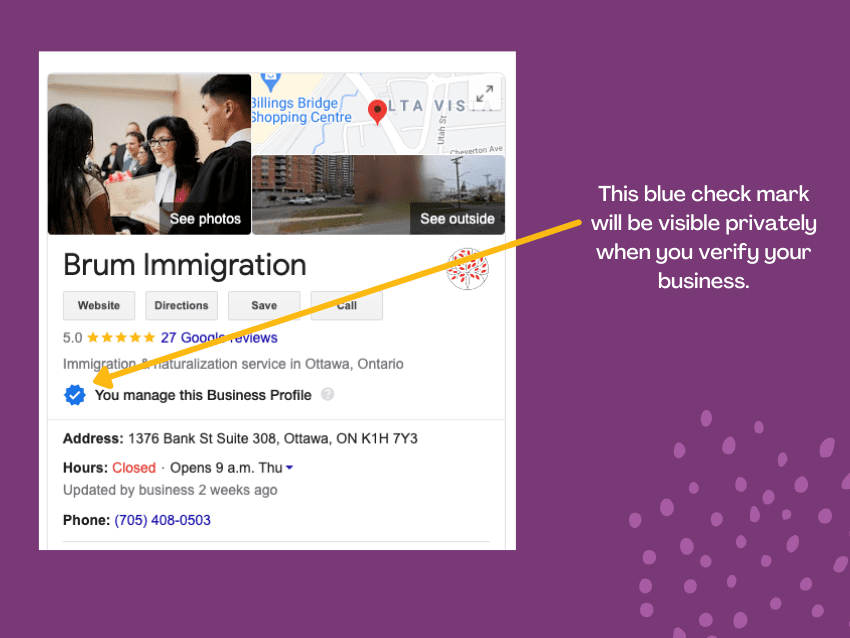 Still standard, but slightly time consuming features
In addition to that first set of standard items, you should absolutely take the time to sort out the following:
Business logo: If you don't have a business logo, make one. The most important thing is to have a clear and legible logo, rather than something extra fancy. If you want more details,

read this article on logo responsiveness

.

Cover photo & other images of your business: images really bring the account to life and are especially important if your business has a visual aspect to it: i.e. portfolio work or product images. We've decided to share images of our website work primarily.
Reviews: social credibility is a very

important persuasion tactic

that should be utilized on google my business. If you're just starting your business, be sure to ask upcoming clients for reviews. If you already have a list of clients, reach out to current & old clients and provide them with the google my business review link to make it extra easy for them!
6 Features that really set your listing apart 
Outside of that standard list lies 6 features that seem to be constantly under-utilized on Google My Business. If you really want to stand out in 2022, here's what to pay attention to:
1. Products, Menus, and Services
For businesses that sell products, food, or services, it's very eye-catching when they're featured on a Google Maps listing. It creates an extremely tailored experience to the platform and immediately stands out since so few companies are taking advantage of this free promotional space. Say you're a vintage clothing store, you could feature some of your latest items. If your business is a restaurant, you could list your restaurant's menu. And if you have a service based industry like ours, you can list a variety of services.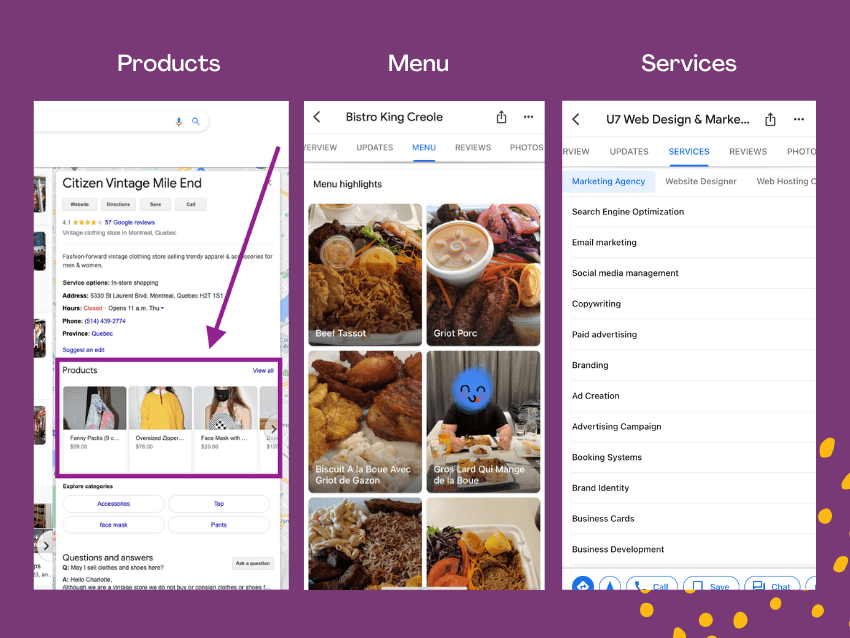 2. Google Post
When google posts first came out, I really thought it wouldn't pick up. And I was sort of right, very few businesses are using it. But, that isn't to say it can't be effective… especially in a time when so many people are searching on maps and it allows your listing to look different. What's great about the post section is that you could choose to share more timely information such as sales and promotions or business updates. But you could also choose just a few "evergreen" posts that can stand the test of time. These posts always have an action associated with them which helps direct users to your site or booking page.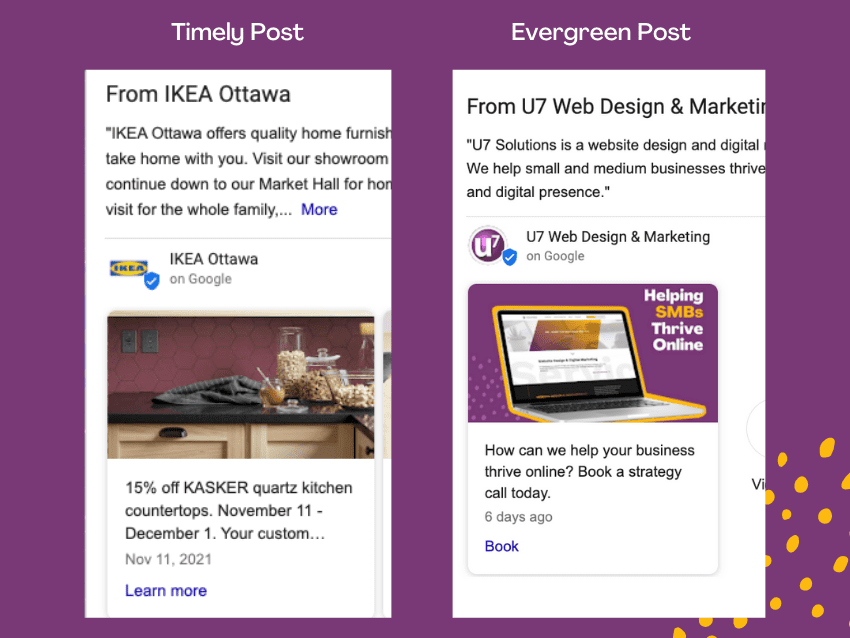 3. Attributes 
Attributes give local businesses the opportunity to share certain aspects that may be social or health oriented. There are six main categories that list options to choose from, such as accessibility, amenities, and health and safety. For certain industries or companies that work more remotely, a lot of these attributes do not apply because they are geared towards in-person experiences.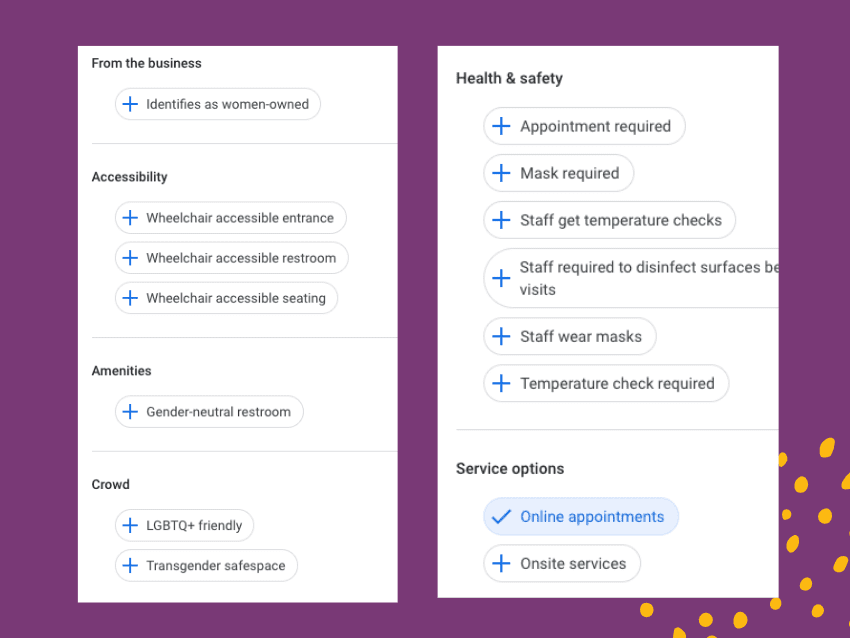 4. Good CTA Buttons 
Not only will good CTA (call-to-action) links and buttons help businesses stand out, but they're also incredibly effective when it comes to converting the traffic into customers. For many businesses like hair salons or car detailing services, the text will likely say "make an appointment" or "book here". For other industries such as restaurants, the button text can be modified to say something like "reserve a table" or "order out". These buttons should link to third-party services or a google integration. This can be a little trickier to set up given that it needs to take into account your openings and connect to any other type of system you may be using. 
5. Messaging System
Google messaging is very similar to Facebook messenger. As a business owner, you can enable this feature which will give customers the ability to send you a message and you can either download the app to get notifications, or check the GMB on desktop. Messaging will allow customers to contact you directly through your Google My Business profile. When you enable the feature, the message or contact box will appear on mobile but does not seem to be available on desktop. Do note that if you don't intend on checking your messages, you could be banned from using the feature. The guidelines indicate a 24 hour recommended response time.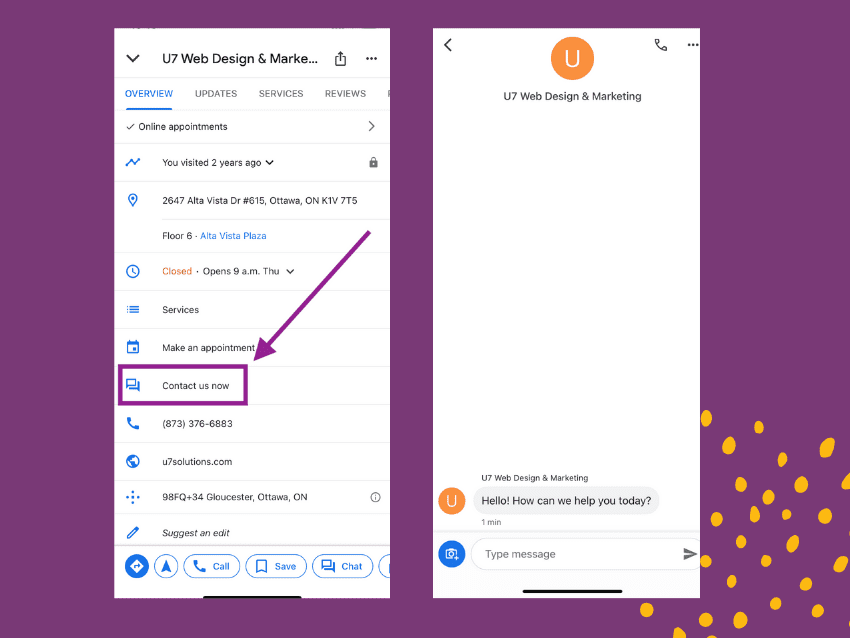 6. Questions & Answers
Similar to an FAQ page on your website, the questions & answers section is an area where frequently asked questions can appear. The interesting part that not a lot of people know is that anybody, including yourself (the business owner or manager) can post the questions anonymously and then answer them. So if you're not as popular as IKEA, which gets tons of questions ranging from holiday schedules to hot dog requests on their menu, you can take the opportunity to create and answer questions that may interest and inform your ideal client. If your business is very popular, be sure to check the questions and answer.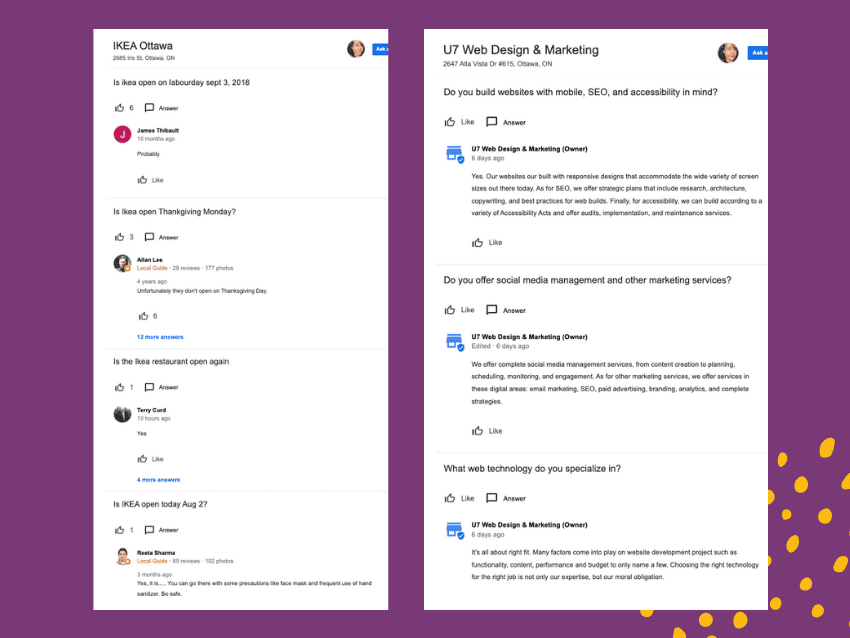 Need help with your Google My Business or SEO?
Whether you're looking for help to create or optimize your Google My Business, or interested in SEO in general, U7 Solutions can develop strategies that will help increase your business' visibility on Google.
We specialize in keyword research, technical audits and optimizations, copywriting, on-page SEO, and more!  Let us show you why outsourcing this work might be the best decision you could make. 
Schedule a free consultation call with us today to learn more.
---
Enjoy this article? Don't forget to share.