Portfolio: Nahwi Car Care
Marketing, Websites
About the client
Nahwi Car Care is a premium auto detailing shop & car wash in downtown Toronto. They needed help with updating their website design and creating ad campaigns to increase appointment bookings.
Solutions provided & ongoing monthly services
•     Replicated the client's previous website onto Wix with a few changes to the design for a modernized look
•     Revised, organized, and adjusted the messaging on Google My Business page
•     Set up inbox messaging system from the website
•     Set up Google Analytics & Google Search Console
•     Create Google Ads accounts and created 2 campaigns, 4 ads per campaign
•     Monitoring campaign metrics and adjust strategy for more reach
•     Regular updates and maintenance to website
•     Set up 'Reserve through Google' to display online booking system on Google My Business

Results achieved
The following results were observed within 3 months of starting the campaigns:
•     Increase of contact form submissions by 300%, since setting up the new website
•     Improved the ease of booking by setting up 'Reserve through Google'
•     Significant increase in calls to the business, confirmed by the client
•     Ads reached over 167,000 people in the Greater Toronto Area specifically looking for car detailing services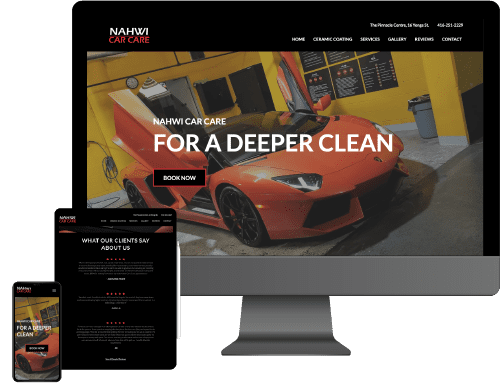 Google My Business
We set up an online booking system linked with the client's Google My Business page, making it easier for people to book directly without needing to call. We also updated the client's public profile on Google to prepare for the search ad campaigns, which would later lead people to this business page. 
Google Ad campaigns
We created campaigns based on the client's 2 levels of service packages: Car wash & premium car detailing. We researched competitors and prepared a few different strategies to use for the campaign details.
Other projects
U7 Solutions has provided services to hundreds of clients for their website and marketing needs. We have experience working with multiple industries, technologies, and online needs. Have a peak at our different projects to see how our team may be able to assist you with your goals.